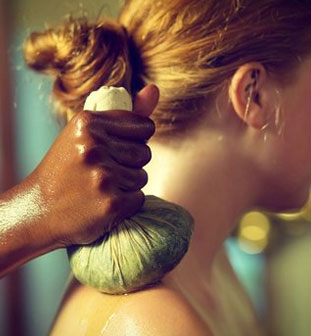 Elakizhi is also called Patra Pinda Sweda, and a kind of sweat therapy used to rejuvenate body, mind and soul. Elakizhi is the treatment of applying heat on the body using 'kizhi'(bolus) that is prepared from the leaves of medicinal plants. According to the dosha of the patient, the medicinal plant is selected for the kizhi. Eranda, nirgundi, and arka are the main leaves used for the treatment. Lemon, coconut gratings, castor oil, rasnadi churna, turmeric powder and methika are the other ingredients used for 'Elakizhi'.
In this treatment the fresh medicinal leaves are used to make kizhi and will be dipped in herbal oil. It is then heated and applied gently in the joints for the treatment.
Elakizhi reduces the age-related degeneration of joints and thereby controls joint pain. It is effective for paralyzed people as it improves the sensory motor functions of the paralyzed part.