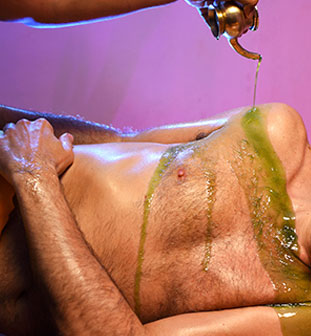 Dhara is a Sanskrit word which means 'steam'. It is an effective treatment for tension, mental stress, headache and insomnia. This treatment also refreshes the body, mind and soul and improves the memory power. In recent years Dhara treatment got world wide recognition because of its guaranteed curing features. The main ingredients in Dhara treatment are herbal oil, coconut water, milk, ghee etc. a normal Dhara treatment takes upto 75 minutes duration.
Shirodhara: It is the process of streaming warm herbal oil on the forehead, scalp and hair. It is beneficial for the treatment of sinusitis, insomnia, depression, migraine and cervical disorders.
Thakra Dhara: Medicated buttermilk will be poured on the forehead. Used for the treatment of psoriasis, digestive problems, headaches and greying of hair.
Dhanyamla Dhara: In this treatment warm herbal liquid is poured on different parts of the body. It is a very effective treatment for physical and mental health.
Ksheer Dhara: Poring medicated milk over the head and body. Beneficial for insomnia, headaches, vatha-pitha diseases and body aches.
Sarvanga Dhara: 6 to 7 litres of herbal oil will be poured on the entire body of the patient. Used for the treatment of degenerative diseases, muscular pain, joint stiffness, hormonal imbalance and skin diseases.
Nethra Dhara: For the relaxation of eyes. It includes the process of washing the eyes with triphala water.